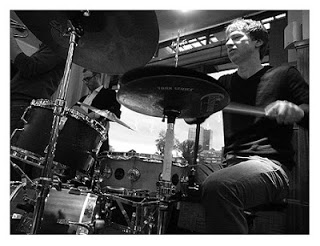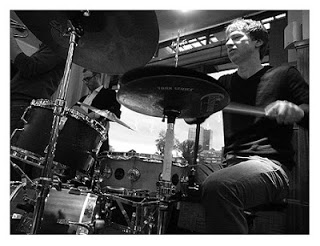 Photo by Jazzques
Here's a review of our Brussels show at Café Belga in November, written in French by Jacques Prouvost, AKA Jazzques. Google Translate certainly distorts his original meaning, but is rather poetic:
"This Sunday, November 4, [Todd Bishop] was Café Belga Brussels.
The world, the noise, the usual deal of the place. So Todd Bishop slams the first shots on the snare. Must be heard. His game is tight, bright and dry. The pulse is strong. And it works! The quartet starts like clockwork.Very quickly, the soloists take their brands and Méreau Martin embarks on a solo feverish Check Up. Then it's Guinea Don Cherry with his throbbing trance. The music hums, rolls and fills the space.
This is a fantastic playground for Jean-Paul Estiévenart. His way up phrases, to invent by mixing always that little bit of humor shifted, this slight ray of light that is in the density of the moment, make him a trumpet definitely always interesting to listen . Guess we always looking for novelty, the truth and the desire to never repeat.Todd Bishop was quickly understood and exchanges with accomplices enrich natural confusing.Then the music turns better and Olivier Stalon benefits and spaces to enter the dance. His improvisations, extremely effective – both rich and simple – revive a Martin Méreau increasingly released vibraphone.
The themes are connected (Feet Music, Comme Il Faut) to the powerful Enfant, played here with an incredible passion. This is probably the best moment of the concert. Dialogues ignite quickly, ideas jostle. This dizzy and it seems that nobody wants to stop. There is a chorus of bidding more attractive to each other. The quartet has found and pleasure on their faces. Each dare go further, driven by one or the other. Bishop gives some indication at a glance, module tensions, holds and releases the clamp. […]
Ornette be happy, he really has not been betrayed.
A +"
Hit read more to read the complete review in the original French:
Ce qui est excitant avec la musique d'Ornette Coleman, c'est qu'elle reste toujours vivante, toujours mouvante, toujours présente et contemporaine. Elle s'adapte aux couleurs et aux sons du moment. Elle ne perd jamais rien de sa force.
Encore faut-il pouvoir la comprendre, l'entretenir, la stimuler. Bref, il faut la vivre.
Le batteur américain Todd Bishop – fervent admirateur de la musique du saxophoniste – en connaît toutes les lignes de forces. Avec Bill Athens (cb), Tim Willcox (ts) et l'incroyable Richard Cole (bcl, ts, ss, bs) il a sorti début 2012 Little Played Little Bird qui reprend quelques thèmes de Coleman peu souvent joués (excepté l'incontournable «Lonely Woman»). Et pour ajouter à l'originalité du projet, il a invité aussi le pianiste Weber Iago. Le résultat est un disque plein de vie, d'une magnifique cohérence, rempli de swing un peu sale et un peu brut qui révèle la griffe de Coleman.
Cependant, pour sa tournée européenne, le batteur se présentait avec un line-up totalement différent – preuve de son ouverture d'esprit et de son goût pour l'aventure – puisqu'il s'entourait de Jean-Paul Estiévenart à la trompette, Martin Méreau au vibraphone et Olivier Stalon à la basse électrique. Après Paris et avant le Luxembourg et l'Allemagne, le groupe faisait escale en Belgique pour quelques dates.
Ce dimanche 4 novembre, il était au Café Belga à Bruxelles.
Du monde, du bruit, le deal habituel de l'endroit. Alors, Todd Bishop claque les premiers coups sur la caisse claire. Il faut se faire entendre. Son jeu est tendu, vif et sec. La pulsation est énergique. Et ça fonctionne ! Le quartette démarre au quart de tour.
Très vite, les solistes prennent leurs marques et Martin Méreau se lance dans un solo fiévreux sur «Check Up». Puis c'est «Guinea» de Don Cherry, avec sa lancinante transe. La musique bourdonne, roule et envahit l'espace. C'est un terrain de jeu fantastique pour Jean-Paul Estiévenart. Sa manière d'enchaîner les phrases, de les inventer en y mélangeant toujours cette petite pointe d'humour décalée, ce léger rayon de lumière qu'il trouve dans la densité de l'instant, font de lui un trompettiste décidément toujours intéressant à écouter. On le devine toujours à la recherche de la nouveauté, de la vérité et l'envie de ne jamais se répéter.
Todd Bishop l'a vite compris et leurs échanges complices s'enrichissent avec un naturel confondant.
Alors, la musique tourne de mieux en mieux et Olivier Stalon profite ainsi des espaces pour entrer dans la danse. Ses impros, d'une redoutable efficacité – à la fois riches et simples – relancent un Martin Méreau de plus en plus libéré au vibraphone.
Les thèmes s'enchaînent («Feet Music», «Comme Il Faut») jusqu'au puissant «Enfant», joué ici avec une passion incroyable. C'est sans doute le meilleur moment du concert. Les dialogues s'enflamment rapidement, les idées se bousculent. Cela donne le tournis et il semble que personne ne veuille s'arrêter. Il y a une surenchère de chorus plus intéressants les uns des autres. Le quartette s'est trouvé et le plaisir se lit sur les visages. Chacun ose aller plus loin, poussé par l'un ou l'autre. Bishop donne quelques indications d'un simple regard, module les tensions, tient, puis lâche la bride.
Alors, bien sûr, la version de «Je suis venu te dire que je m'en vais» (de Gainsbourg) paraît très faiblarde – surtout le début – après cette débauche d'énergie et de musique brillante… Mais on ne peut pas leur en vouloir, la musique n'a cessé de monter en intensité, il fallait bien relâcher la pression.
Les musiciens sont en nage, surtout le batteur, car tous se sont donnés à fond. Ornette peut être heureux, il n'a vraiment pas été trahi.
A+