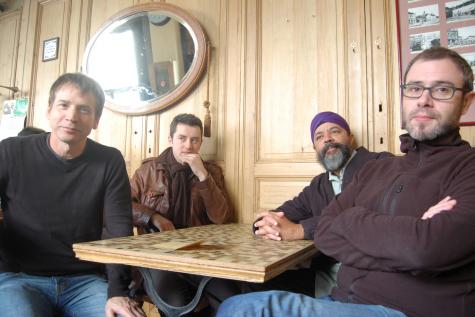 At the start of the tour the band was interviewed by Jean-Claude Vantroyen for Le Soir, the major French-language newspaper in Belgium. Vantroyen also put a brief little note about the CD on the LS site.
The full piece:
"Todd Bishop habite à Portland, en Oregon. Une ville moyenne aux Etats-Unis : quelque 580.000 habitants. C'est là que vivent Todd Bishop le batteur américain et Weber Iago le pianiste brésilien. « C'est un grand centre musical depuis longtemps, explique Todd. Il attire plein de jeunes de tout le pays. » L'Oregon borde l'Océan Pacifique. La Columbia s'y jette. Portland est établie sur sa rive. Todd et Weber ne sont pas dépaysés quand ils arrivent en Belgique : « C'est le même type de temps : la pluie est souvent au rendez-vous. »
Todd et Weber viennent d'arriver à Bruxelles ce lundi matin. Dès mardi soir, ils jouent. Avec deux Belges : Jean-Paul Estiévenart à la trompette et Olivier Stalon à la basse. Tous quatre sont réunis dans un café, place Flagey. Les résident US sont un peu maqués par levoyage. « Mais c'est un peu notre première répétition », lance Weber Iago.
Todd n'est pas très connu encore chez nous, même s'il est déjà venu en tournée. « Je suis juste un musicien, dit-il, qui fait des disques et essaie de prester des concerts. » Depuis 1985, cet homme né en 1967 joue de la batterie en professionnel. Mais c'est aussi un artiste visuel : peinture et photo. Et il tient un blog : Cruise Ship Drummer où on trouve tout sur le « drumming ». Deux albums à signaler : l'un consacré à la musique de Serge Gainsbourg, l'autre à celle d'Ornette Coleman. Le premier s'appelle « 69 Année érotique », l'autre « Little playes little bird ». Weber Iago joue dans celui-ci. Todd et lui se connaissent de longue date."
Continued after the break:

"«Le projet Gainsbourg est un défi, explique Todd. Ce n'est pas vraiment de la musique de jazz. C'était donc un challenge de le faire. Je joue la musique d'Ornette depuis des années. Il était temps d'enregistrer cette musique. » Pourquoi Ornette Coleman ? «C'est difficile à dire. Il écrit de grandes mélodies, il leur donne de beaux titres. Comme peintre, je fais dans l'abstrait expressionniste, la musique d'Ornette est proche de cela. Sa musique m'intriguait, je l'ai écoutée beaucoup et ça fonctionne : ses morceaux sont amicaux. »
Ornette Coleman a aujourd'hui 83 ans. Et malgré son rôle dans l'évolution du jazz, ce n'est pas une star. « C'est que sa musique n'est pas pareille à celle des autres, répond Todd Bishop. Le jazz est fait de tensions et de relâchements. Ce n'est pas le cas chez Ornette : cela reste toujours dans la même pression. Et c'est un défi de le jouer. »
« Je connais la musique d'Ornette depuis longtemps, intervient Weber Iago. Mais il ne m'a toujours influencé. C'est pour le projet avec Todd que j'ai appris les morceaux, étudié les concepts, et ce fut une belle surprise pour moi. »
Sur le CD, Weber Iago joue avec Todd, un bassiste et deux sax américains. Pour la tournée, ce sera une trompette et une basse belge. « On a beaucoup joué Coleman, avoue Jean-Paul Estiévenart. Beaucoup de groupes aiment jouer cette musique. La différence, c'est que Todd a choisi un répertoire moins connu, plus confidentiel. » « J'en ai aussi joué beaucoup, ajoute Olivier Stalon. Ca fait partie du langage de base qui forme de nombreux musiciens. Mais c'est vrai que ce que Todd propose est un peu particulier. »
« Sans beaucoup anticiper »
Todd Bishop boit son deuxième café en ne cachant pas sa satisfaction pour cette tournée : « J'ai les meilleurs musiciens, dit-il. Vous savez, il n'y a pas de back ground à avoir pour cette musique. J'aime jouer avec des musiciens qui font d'habitude du mainstream et à qui j'impose de jouer autre chose. » Les morceaux de la tournée seront principalement du Coleman, mais il y a aussi du Paul Bley, du Don Cherry, du Carla Bley, proches de Coleman. Et puis du Gainsbourg et du Caetano Veloso. « Nous sommes éclectiques », sourit Todd.
Et Estiévenart et Stalon, ont-ils particulièrement étudié les partitions envoyées par Todd ? Le trompettiste : « Pas vraiment. On se voit une heure avant le gig, on décide ce qu'on joue et on y va. Il y a bien un ou deux morceaux qui nécessitent un travail de lecture, mais… »
Le bassiste : « Cette situation va au contraire développer notre concentration et notre écoute mutuelle. C'est ce que moi je recherche le plus. Et on va s'amuser. » Todd : « Ce sera grand. Et je suis heureux de le faire sans beaucoup anticiper parce que les musiciens sont bons. »
Sur le CD, Todd est accompagné de deux sax. Ici ce sera une trompette. « Ce sera différent, mais ça ne fait rien, dit le batteur. D'ailleurs, Ornette jouait du sax alto et sur l'album ce sont des ténors. »
La plupart des albums d'Ornette Coleman ont été enregistrés sans piano. Ici, il y a celui de Weber Iago. « C'est que j'aime le plus, rétorque le Brésilien de Portland. Ca me donne l'occasion d'improviser sur le moment. Cette musique est une parfaite opportunité de jour de cette façon. Une façon qui nécessite beaucoup d'écoute entre nous. D'ailleurs écouter est de loin plus important que jouer… » Todd Bishop et les autres acquiescent avec enthousiasme.
En tout cas, n'ayez pas peur. Si la musique d'Ornette Coleman paraît complexe à jouer, elle n'est pas malaisée à entendre. Ses mélodies sont au contraire assez aériennes, légères, agréables, drôles parfois. Todd Bishop & Co les joueront du nord au sud de la Belgique avec une incursion en Allemagne et une au Luxembourg. Pas à la mer. Un jour, Todd a joué à Knokke avec un de ses complices américains. Celui-ci était désemparé face à la mer : « Le soleil n'est pas à la bonne place ! », disait-il. La côte belge n'est pas l'Oregon face au Pacifique…"