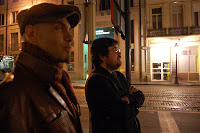 Willie Matheis and Dan in
Brussels, first night of the tour.
Dan's PA4 Europe tour diary – part 1
Notes from the 2009 Pop Art 4 Europe tour, written by guitarist Dan Duval:
The Sazz 'n' Jazz is a small club in the heart of the Turkish district of Brussels; the group that played right after us was a traditional Turkish ensemble which featured the Sassi, a guitar-esque Turkish instrument. They sounded great! The club owner, audience, and other musicians were all very kind to us, and actually the rest of the tour continued in a similar tone. Todd sold a fair amount of merchandise, we got Olivier (the Belgian bass player) up to speed, and everybody recognized almost every Serge tune we played. It was a great time, even despite the jetlag.
[…]
Having spent the weekend getting acclimated and well rested, we were ready to get down to business and play shows on Monday, Tuesday, and Wednesday night. Monday night we played at a very small club in Ghent called Bar Deco. The owner, Kristoff, is actually a jazz drummer and percussionist (later in the evening Willie and I heard him play some slamming cajon like stuff on a barstool with his bare hands), and he sometimes has jam sessions at his club. He did some good promoting for us, and even hooked us up with a nice dinner. Before the show we rehearsed with Jouni, the bass player who played the three Paris gigs with us – he is a nice guy and a great player. After taking our dinner break we got started, and the place felt really packed, especially since it was such a cozy venue. People really seemed to dig it, and once again, the Gainsbourg material was not lost on the European audience.
After the show Kristoff poured Willie and I a slightly overwhelming series of shots, and he was very enthusiastic about us enjoying them. Todd was off the hook because he had to drive. Here is a photo of us with Kristoff, our new friend in Ghent.
[…]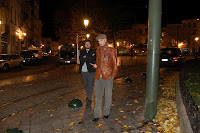 We didn't get home till very late Monday night, and Tuesday was a long and very excellent day. We got up on the early side, packed the car, and headed to Germany. Tuesday night was our show in Aachen at "Madame Dumont's," a small club which has been there for about fifty years! Our new friend Arman has owned the club for the last fifteen years, and he was the most exceedingly generous host we encountered on our tour. We met him at the club in the early afternoon, dropped off our gear, and figured out the day. He had promoted us very actively, and there was a chance that Todd would do an interview on the local radio station right before the show, but alas, this fell through due to, apparently, the laziness of college students. In any case, Arman's friends and customers all must believe him when he says that a show will be good, because the smallish club was packed before we started, and Todd's introduction was received very warmly; we got to hear applause before we'd played a single note! The evening continued very smoothly; the music went extremely well, people enjoyed it, and Arman even actively helped Todd sell CD's. This show was definitely one of the highlights of the tour.
[…]
We were happy to have Thursday off; we slept a bit late, and in the afternoon Willie and I walked around rural Willebringen a little bit, and then sat down at the kitchen table and ate cheese, salami, and bread for about two hours. We also had red wine and Belgian chocolate; truly a feast to remember! In the evening, we headed into Brussels to check out Todd's old college roommate's band's CD release show. It was at a really nice theater type venue which we may play on the next tour, and they packed the house. It was a slamming evening of fast paced Euro-Fusion (whatever that means). This day off marked the halfway point of our trip; the following morning we were on our way to Paris!