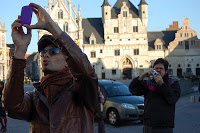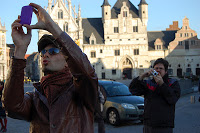 Willie Matheis and Dan in Belgium
Dan's PA4 Europe tour diary – part 2
Notes from the 2009 Pop Art 4 Europe tour, written by guitarist Dan Duval:
Our time in Paris was densely packed with sight seeing, transportation, and performance. We arrived in the afternoon on Friday, so we didn't have time to do much of anything before playing our gig that night. The club, Le Bab Ilo, was tiny but extremely charming: we played in a book lined basement room.
[…]
On Saturday, Sunday, and Monday, we took the train into Paris in the morning, checked out different parts of the city on foot, and then took the train back to the hotel in time to pack the gear into the car and drive back into town for that night's gig (Sunday night was the exception, which we had off; Todd didn't have to drive anywhere except the train station near the hotel that day, and I'm pretty sure he was happy about that). It was quite an intense expenditure of energy, and Paris is an amazing city!

On Saturday we tried to check out the Catacombs, but were disappointed when we got there and read the sign on the door: "closed due to vandalism." We ended up walking around Montparnasse Cemetary. Gainsbourg is buried there, but unforunately they closed down and threw us out before we made our way around to his grave. It was refreshing to visit a graveyard that's so much more ornate than what I'm accustomed to in the States.
[…]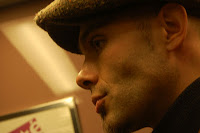 Willie on the Paris Metro
Monday we spent the afternoon at the "Centre Pompidou." Spending some time in this museum was one of the highlights of the trip for me. Their permanent collection includes work by Miro, Ernst, Richier, Matisse, Braque, Picasso, Brancusi, Pevsner, Dali, Breton, Duchamp, and many others. My knowledge of art history is almost totally nonexistent, due more to happenstance than lack of interest. Trying to take in their collection was a pretty powerful experience, and it's definitely a place to spend more than just one afternoon. You also get an amazing view of Paris from the upper levels of the building. […]