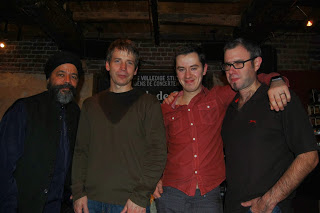 After our first gig, at Hot Club de Gand, in Ghent.
The tour went quite well, by the way— the shows were all well attended, audiences were very appreciative, purchased a lot of CDs, we got some good press, and we are well situated to expand our reach next year. This was my fourth tour of Europe leading my own group, and the most successful one yet both artistically and financially.
There's a gallery of photos from the tour here, and our updates from the road are here.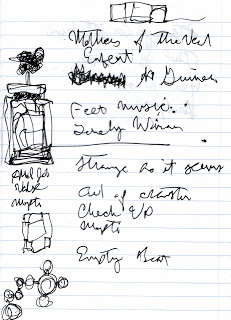 Earlier I posted a list of tunes I was including in our book— we ended up playing:
Mothers Of The Veil
Feet Music
Strange As It Seems
Enfant
Mob Job
Lonely Woman
Owl of Cranston
Guinea
Mopti
Empty Boat
Valse de Melody
And less frequently:
Comme Il Faut
Check Up
Las Vegas Tango
Olhos de Gato
Here's the group playing Mopti, by Don Cherry, at the Jazz Station in Brussels, on the second night of the tour:
The musicians there are: Weber Iago — piano / Jean-Paul Estievenart — trumpet / Olivier Stalon — bass / Todd Bishop — drums